Leverage Captivate's modern technology solution to make property communications more effective while elevating the building experience.
Your building residents are your customers, and for more than 25 years, Captivate has given property owners and managers an easy, cost-effective way to attract and retain those customers with engaging content. Our turnkey digital display solutions elevate your brand through modern communications they will appreciate.
Captivate ensures your customers see what is important to them and their families through professionally curated news and entertainment and your own property messages.
No matter your environment, Captivate provides modern digital display solutions to fit your building aesthetic and reach your residents in a contemporary way. We provide energy-efficient displays or publish content on your existing digital screens in lobbies, gyms, cafés and more.
Large Format Digital Displays
High-impact digital screens enhance common areas, are sure to be seen and create a sense of community.
Perfect for high-traffic common areas, such as lobby, elevator bank, reception area, lounge, mail room and fitness center
Energy-saving 43", 50" or 55" HD digital screens that qualify for LEED certification
Adaptable placements and screen orientations to best fit your building aesthetic
ScreenCenter™ cloud-based Content Management System enables quick and easy publishing of your own content in real-time, such as notifications, event invitations and alerts
Client Content Window (CCW) is an always-on customer communication feature
Installation Options: Self-setup with Captivate | GO media player OR fully managed installation
Effortless Property Messages
Captivate makes it easy for you to create and publish your own property messages straight from our ScreenCenter™ Content Management System. Use our templates or create your own messages in minutes and publish them to one or more screens.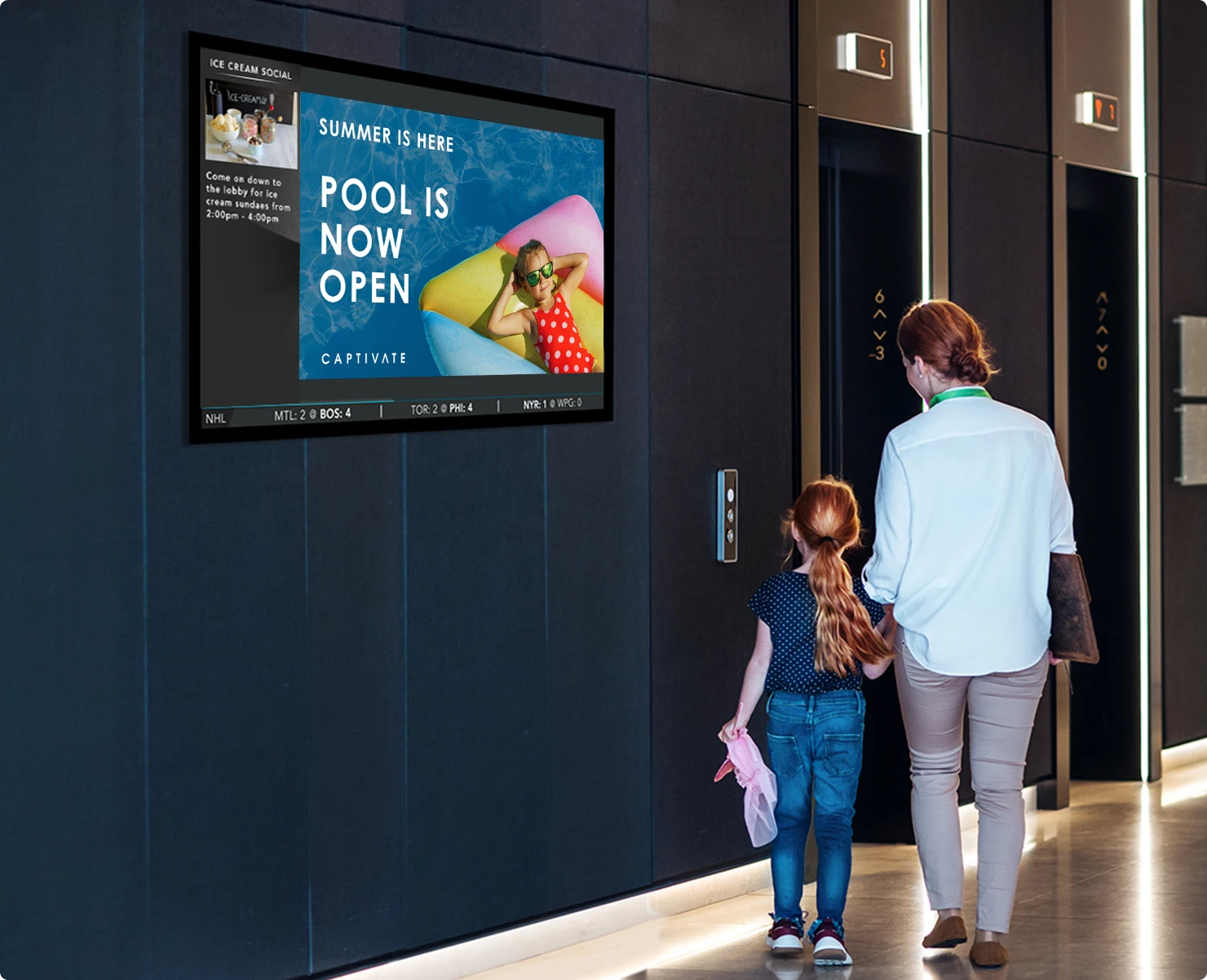 Inform customers about anything from maintenance upgrades in progress and leasing opportunities to welcome messages and new amenities announcements.
Build community by ensuring all customers see and are reminded of building event details, even adding a scannable QR code for easy sign-up.
Keep residents aware of essential information and updates, such as inclement weather, fire safety, evacuation instructions and security issues.
Professionally Curated Content
Captivate's expert editorial staff curates and edits content based on our research of your residential customer profiles. With over 25 years of experience, we know what news, sports and entertainment programming is relevant and interesting to them and publish meaningful content in a rotating sequence to deliver the greatest impact.
We publish content from our network of trusted global and local content providers across multiple genres.
More than 150 content providers




Our bite-sized programming covers a range of genres designed to inform and entertain.
Custom Branding Solutions
Captivate digital screen network is the ideal channel to promote your brand and build awareness. Your brand logo is prominently displayed on the screen with the programming, reinforcing brand loyalty.
Place your logo above time and weather, the most viewed screen area, and select the desired background from seven pre-designed themes.
Display your logo, address or vanity name with the option to design a custom background.
of Residents Enjoy Watching Captivate
%
Find Captivate Informative
%
Would Be Disappointed If Captivate Was Removed
%
Agree Captivate Is Trustworthy
Let's Create an Exceptional Experience Together