The Power of
Digital Signage
Software
Easily and effectively communicate with tenants and residents while providing a valuable amenity that elevates the building experience
Experience the Leading Property Management Digital Signage Solution
Captivate offers property owners and regional and community managers a low-cost and engaging digital signage solution to elevate building amenities and impress residents. Captivate provides prop tech software that not only makes it incredibly easy for you to display property messages but ensures your tenants and residents see your messages and feel connected to where they work and live.
From digital lobby signage to elevator digital signage, our large-format screens seamlessly blend into building high-traffic areas. What truly sets Captivate apart is our professionally curated content viewers love. Based on viewer research studies, our network presents a diverse programming mix updated throughout the day alongside your custom property messages, capturing their attention for the highest impact.
Property Management Content Types
Property & Neighborhood Events
Building Amenities
Reminders
Maintenance Updates
Alerts
Invitations & Promotions
Special Offers
Emergency Messaging & Instructions
Seasonal Messages
Captivate Curated Content Types
News
Entertainment
Finance
Business
Travel
Lifestyle
Health
Sports
Seasonal Guides/Tips/Recipes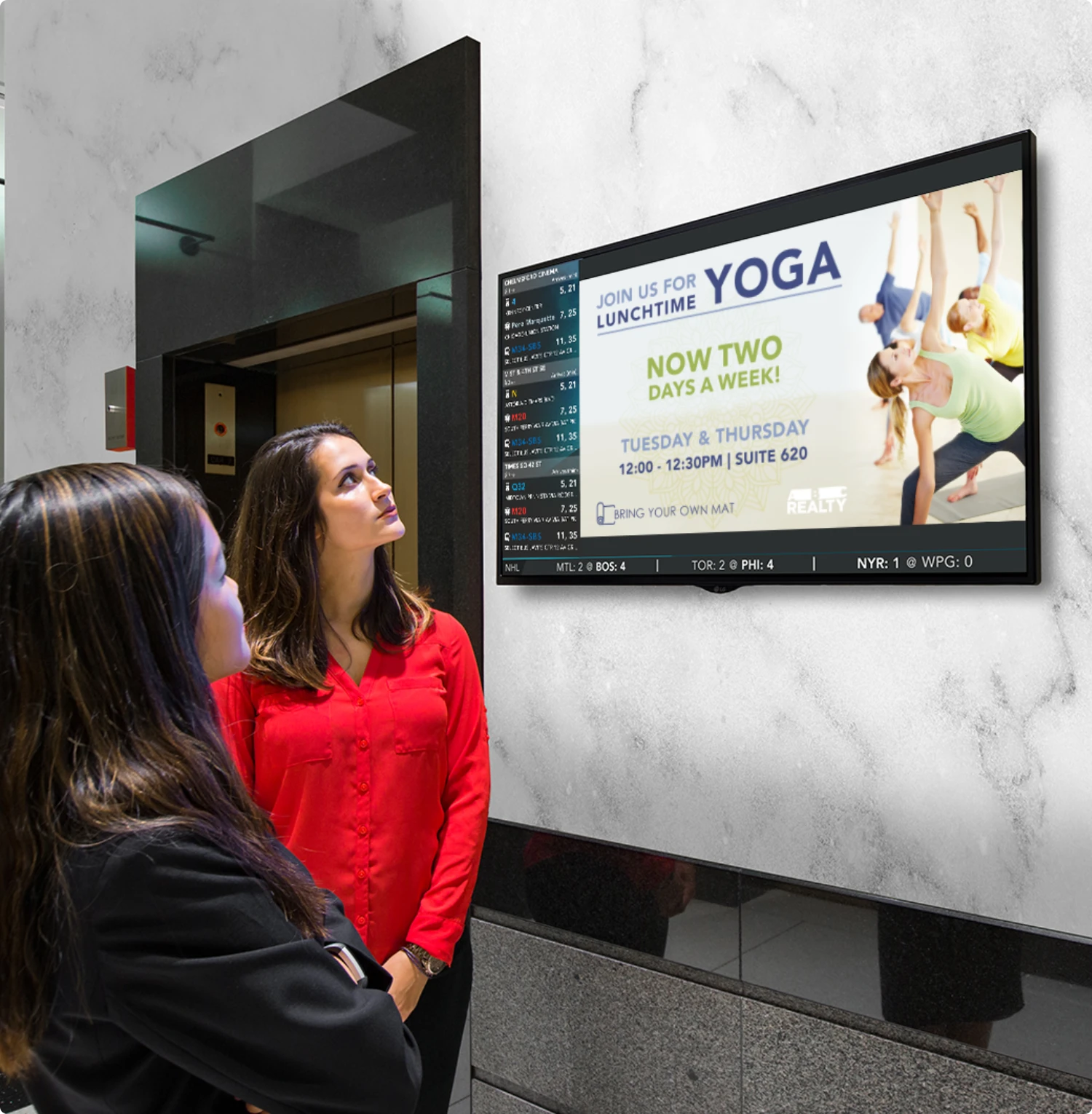 Digital Signage for Effective Communication
Captivate's turnkey service enables you to publish custom property messages within minutes via our cloud-based digital signage software instead of printing hard copy pamphlets and signage or updating billboards. Keep your tenants and residents informed, entertained and connected with messages and content that enhance their building experience and their lives.
Viewers enjoy Captivate content that is tailored to their interests and lifestyles. The longer they stay engaged, the more likely they are to see property messages. Integrating messages with trusted, appreciated content is the most reliable way to communicate with your residents and tenants.
%
of Residents Enjoy Watching Captivate
%
Find Captivate Informative
%
Would Be Disappointed If Captivate Was Removed
Modernize Your Properties with Captivate
Captivate is a top-tier amenity that residents and tenants in Class A properties now expect. Our sleek, modern digital signage design and curated content lead to higher satisfaction rates which are more likely to result in higher renewal rates and occupancy levels.
Whether you own or manage commercial buildings, multifamily properties or student housing properties, Captivate has everything you need to communicate, engage and delight your tenants and residents in an efficient, modern way.
Inform and entertain professionals on elevator screens, lobby digital screens and other strategically placed screens with minimal effort and maximum effectiveness.
Multifamily/Student Housing
Leverage digital signage software to ensure residents see your messages and feel part of a community by keeping them informed, immersed and connected.
Let's Create an Exceptional Experience Together