Get in Front of Decision Makers
Reach targeted audiences with purchasing power through the most extensive digital network in prime locations.
Connect Your Brand with High-Value Decision Makers at Points of Influence
Captivate has an extensive network of digital screens in premium office and luxury residential buildings that reach distinguished audiences brands desire most.
Our audience targeting solutions ensure contextually-relevant ads reach your target and our advanced measurement tools give you insights into campaign performance.
This powerful combination presents brands and agencies with exceptional opportunities to earn a greater share of attention and influence the path to purchase of high-value audiences where they work and live.
Captivate Your Audience.
Impact Their Purchasing Decisions Where & When They Happen.
Our digital screens are located where influential business professionals and upscale consumers are often impressionable and receptive to digital content, making it easier to capture their attention throughout the day to maximize impact.
Captivate's elevator & large-format displays present a wide range of digital solutions that engage hard-to-reach professionals where they work.
Source: MRI-SIMMONS Fall 2022 Doublebase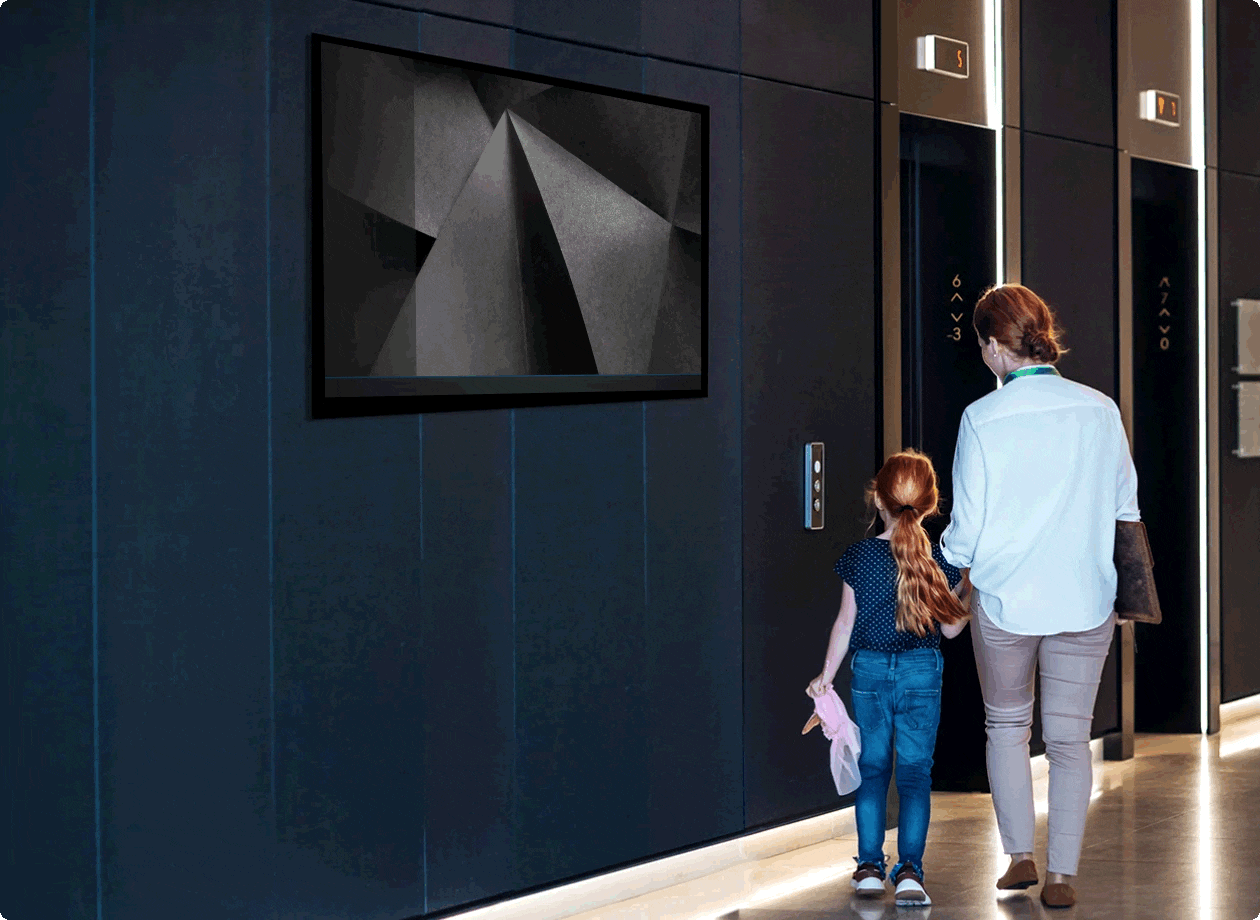 Captivate provides multiple digital display solutions located in high-traffic common areas that influence upscale buyers where they live.
100%
effective delivery of
HH Principal Shopper
Source: MRI-SIMMONS Fall 2022 Doublebase
At Captivate, we invest in agency and brand success, bringing unrivaled access to high-value audiences in brand-safe environments and contextually relevant advertising at multiple touch points along their daily journey. We offer multiple resources to pinpoint audiences and measure campaign effectiveness.
Advanced Audience Targeting & Programmatic
Reach your target audiences through Captivate's traditional and programmatic targeting solutions that are proven to pinpoint your optimal audience efficiently. Our dynamic planning tools support your campaign goals, including ABM strategies, niche targets, geography, custom targets and more. We make it easy to activate our programmatic tools through the DSP of your choice.
With Captivate's solutions, you spend budgets wisely on the most promising audiences and markets for the highest ROI potential.
Sophisticated Measurement & Attribution
Captivate's research team measures impressions and interactions, from brand lift to app downloads, to quantify ad campaign performance. Our custom brand studies provide powerful insights agencies can use to truly understand ad effectiveness.
Brand-Safe Content Experience
Our professional editorial team curates a brand-safe programming mix from more than 100 trusted, world-class providers that engages on-the-go professionals and decision makers who are typically hard to reach yet have the highest spend potential.




Partner with our team to customize brand alignment and sponsorship executions that increase relevance & elevate engagement. Captivate delivers tailored solutions that include ad formats, editorial alignment, branded content, native content, gamification and more. Take a look at our creative specs.
It's Time to Captivate Your Audience