Give People a Reason to Love Where They Work & Live
Provide customers with engaging content and essential communications that benefit them throughout their day.
For more than 25 years, Captivate has offered professionally curated news and entertainment content with effortless property management messaging on digital screens in luxury commercial and multifamily buildings.
We make communicating with building occupants, your customers, more visible and effective. Our turnkey digital display solutions give property managers an easy, low-cost way to:
Publish building notifications and activity invitations to foster community
Improve building satisfaction to increase renewals
Modernize building and add a "wow" factor
%
enjoy watching Captivate
%
find Captivate informative
%
would be disappointed if Captivate was removed
How Can Captivate Help You Elevate Your Building Experience?
Reach, inform and entertain professionals in building elevators and common areas with minimal effort and maximum effectiveness.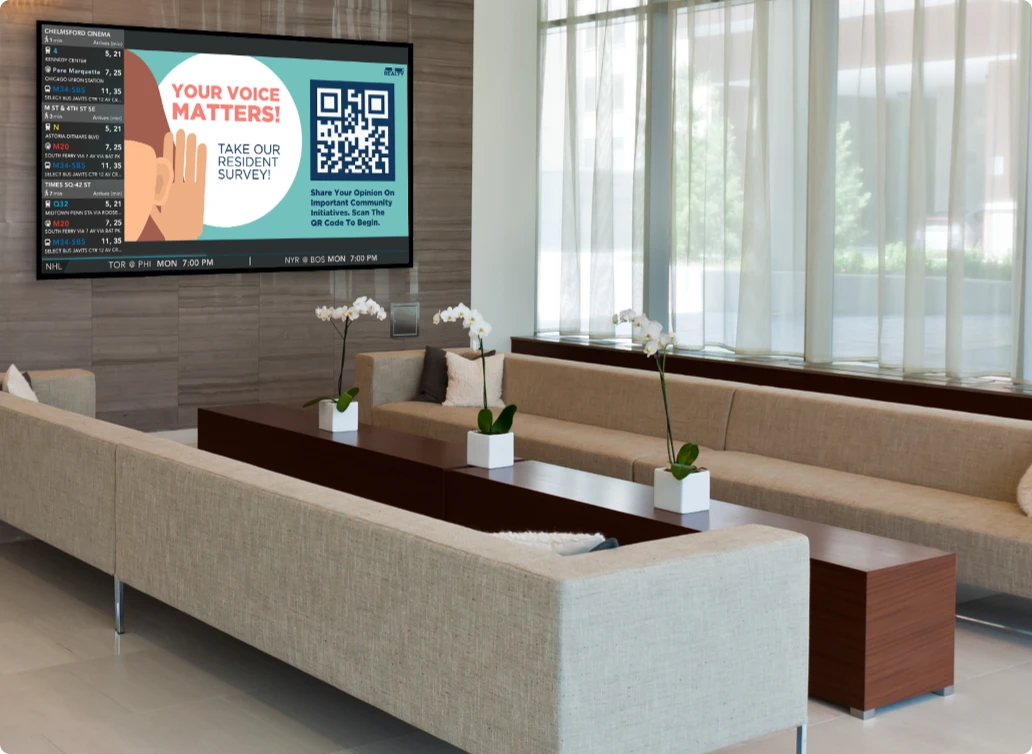 Ensure residents see your messages and feel part of a community by keeping them in the know, immersed and connected.
Streamline Communications & Highlight Appealing Amenities
Captivate turnkey property management system replaces outdated forms of communication like emails and flyers, making it the most efficient and viewable channel to deliver messages and meaningful content your customers will value.
Our editorial team curates and publishes a mix of news, weather, sports and entertainment content from respected sources tailored to your customers so you don't have to maintain, update or think about it. We can include real-time, location-based transit information, too. Content is always fresh, engaging and meaningful.
Customizable Messaging & Branding
Use Captivate ScreenCenter and Client Content Window templates to quickly create, schedule and publish your branded property management messages to run in rotation with our curated content. From building notices and alerts to a property directory and social activity invites, Captivate ensures your customers see your messages.
We can provide sleek, highly efficient screens and install our best-in-class content in high-traffic areas or integrate our content on your existing hardware. Either option is sure to get your customers' attention and enhance their experience.
Never Miss the Opportunity to Impress
Digital content gets attention and is the most consumed type of content today. Captivate gives property owners and managers a modern yet increasingly expected way to communicate with customers and building guests. Whether you manage commercial office buildings or multifamily buildings, Captivate has the ideal way to delight everyone who walks through the doors. Our tailored content mix + your building messages + engaging screens impress people and help them love your building.
Let's Create an Exceptional Experience Together