Modernize communication to elevate your building experience
Your building occupants are your customers, and Captivate ensures you can impress them with tech-forward, digital display solutions designed to get their attention. Capture their interest, elevate your brand, and increase customer satisfaction to drive occupancy and increase renewals—all with minimal effort.
For more than 25 years, we have offered comprehensive solutions to help commercial real estate owners modernize buildings with relevant content and impactful communications on sleek digital screens. Captivate is your one stop for implementing effective communications and strengthening customer loyalty through professionally curated programming and making it easy to create your own building messages.
Captivate provides a variety of digital displays that seamlessly integrate into building common areas or we can publish content on your existing digital screens. Whether you prefer one screen in your lobby or want to outfit your building with lobby and elevator screens, video walls and more, we design a customized solution to fit your needs and building aesthetic.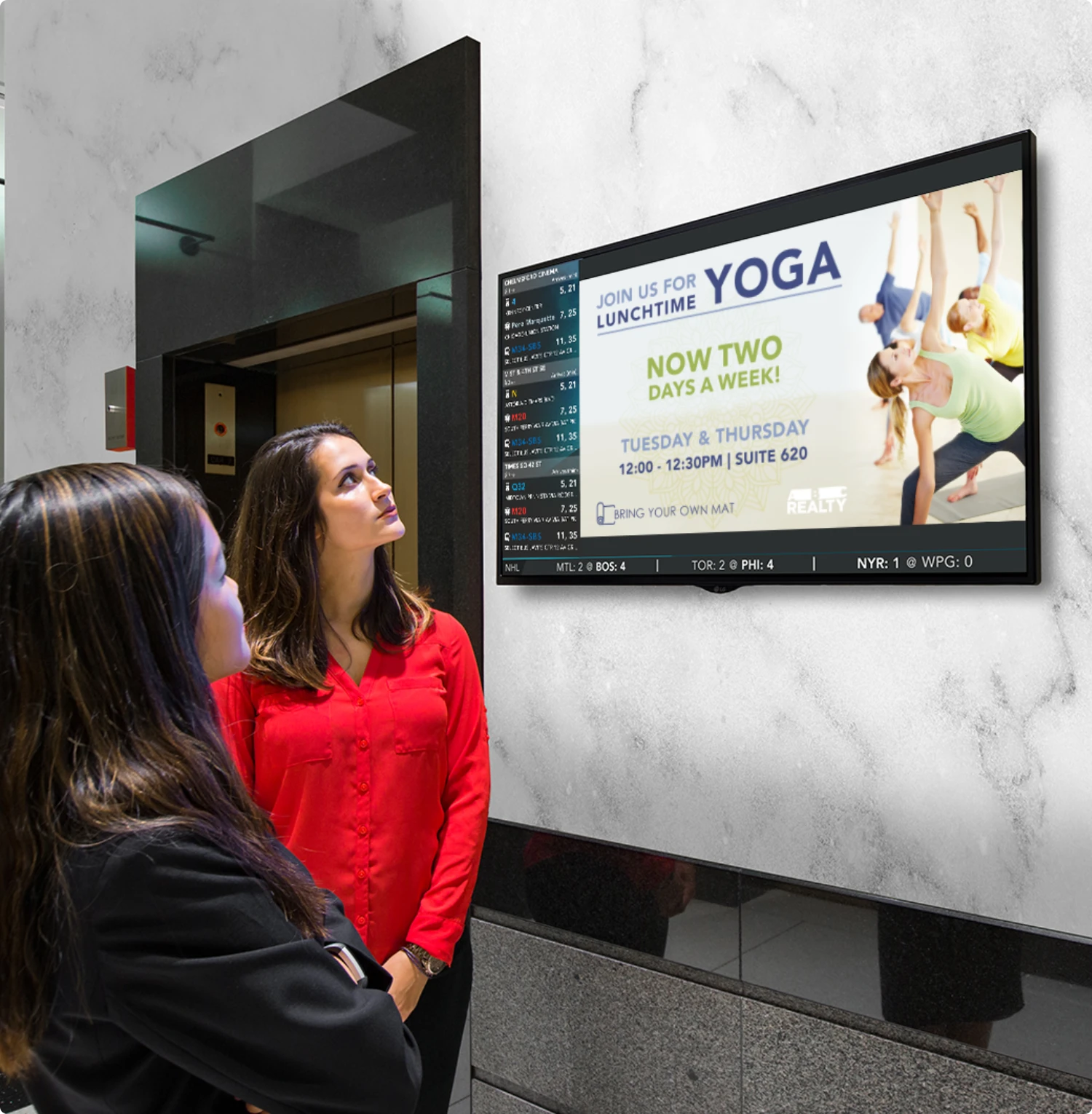 Large Format Digital Displays
High-impact digital screens make your building communications more viewable and effective, enhancing common areas with valuable content people appreciate.
Ideal for high-traffic common areas, such as lobby, elevator bank, conference rooms and café
Energy-saving 43", 50" or 55" HD digital screens that qualify for LEED certification
Adaptable placements and screen orientations to best fit your building aesthetic
ScreenCenter™ cloud-based Content Management System enables quick and easy publishing of your own content in real-time, such as property notifications and alerts
Client Content Window (CCW) is an always-on customer communication feature
Installation Options: Self-setup with Captivate | GO media player OR fully managed installation
Your property messages and relevant content informs and entertains riders in a highly visible way as they move throughout your building.
Smaller, flush-mount and surface mount solutions that seamlessly integrate into elevator front side panel
Energy-saving 10", 12" or 15" screens
Customized design to match your building aesthetic
ScreenCenter™ cloud-based Content Management System enables quick and easy publishing of your own content in real-time, such as notifications, event invitations and alerts
Do you already have elevator displays? Captivate can add curated content and professional message management system to most existing hardware already installed
Integrated directly into the wall of the elevator cab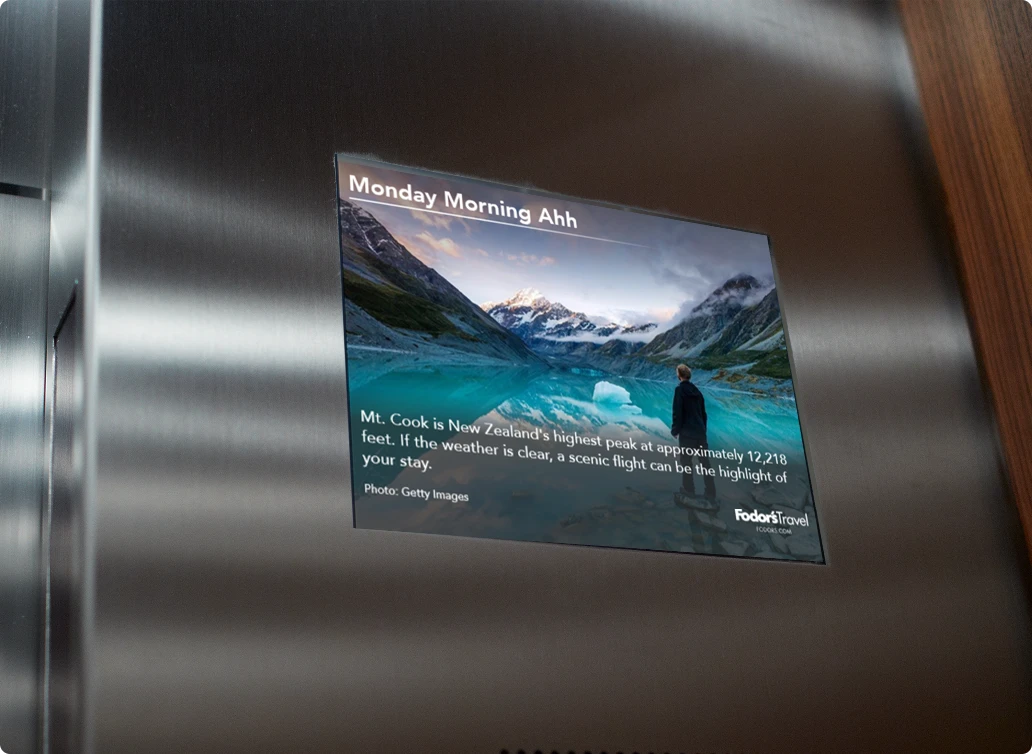 Contemporary design with tilt options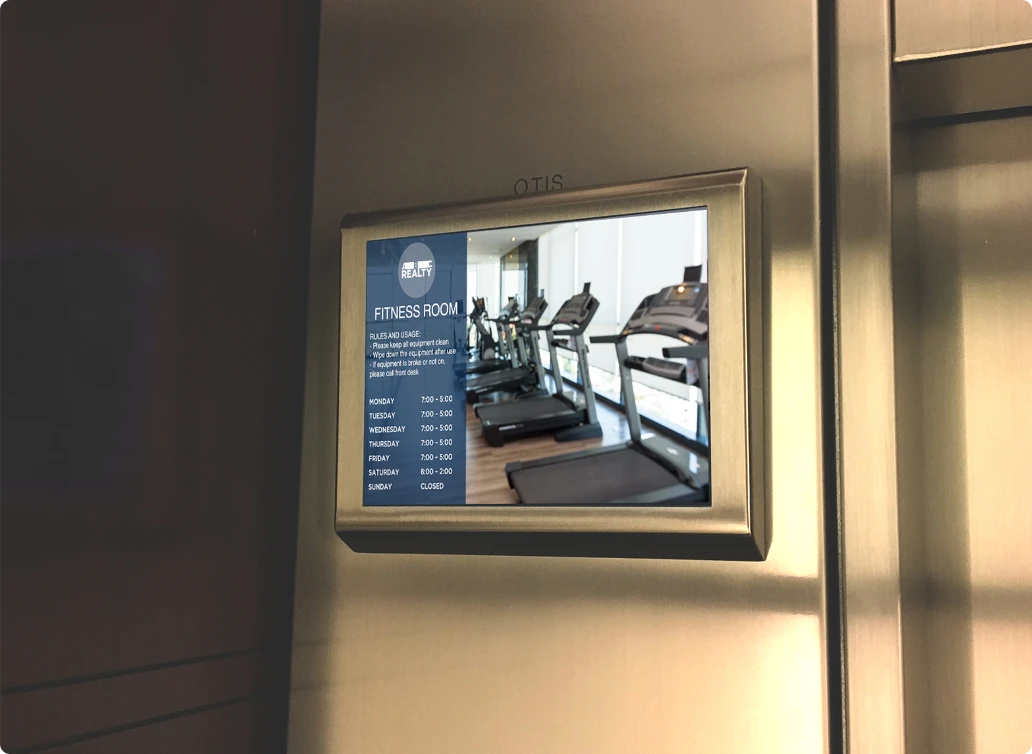 Effortless Property Messages
The Captivate ScreenCenter™ Content Management System enables you to create your own property messages in minutes and publish them to one or more screens and buildings, even from a mobile device.
Post messages to keep customers informed, whether it be to notify of scheduled maintenance, welcome new tenants, present lease referral programs or promote events.
Post urgent messages quickly to keep customers and visitors safe, informed and confident of what to do no matter the situation.
Highlight onsite amenities to inform customers and encourage participation in all that your property has to offer.
Captivate's professional editorial staff leverages 25 years of experience to curate news, sports and entertainment programming that is most likely to resonate with your customer base and add value to their day. Add Captivate | MOVE to post nearby transit information for even greater customer value.
We publish content from our network of trusted global and local content providers across multiple genres.
More than 150 content providers




Our bite-sized programming covers a range of genres designed to inform and entertain.
Custom Branding Solutions
With Captivate, you can build management and building awareness by placing your logo on the screens to remind customers your company values their office experience.
Place your logo above time and weather, the most viewed screen area, and select the desired background from seven pre-designed themes.
Display your logo, address or vanity name with the option to design a custom background and progress bar.
of Tenants Enjoy Watching Captivate
%
Find Captivate Informative
%
Would Be Disappointed If Captivate Was Removed
%
Watch Captivate Every Time or Most Times
Let's create an exceptional experience together