An Exclusive & Limited Offer
Elevate Your Building With A Free Captivate Screen & Subscription
Captivate delivers tech-forward, digital display solutions designed to attract building occupants and set your building apart. ​
For over 25 years, Captivate has offered comprehensive solutions to commercial real estate owners to increase occupant satisfaction, drive occupancy and increase renewals – all with minimal effort.​
To prove Captivate's value and commitment to the resurgence of the commercial office sector, we are offering select buildings a free, large-format screen with a no-cost subscription to the Captivate media service.​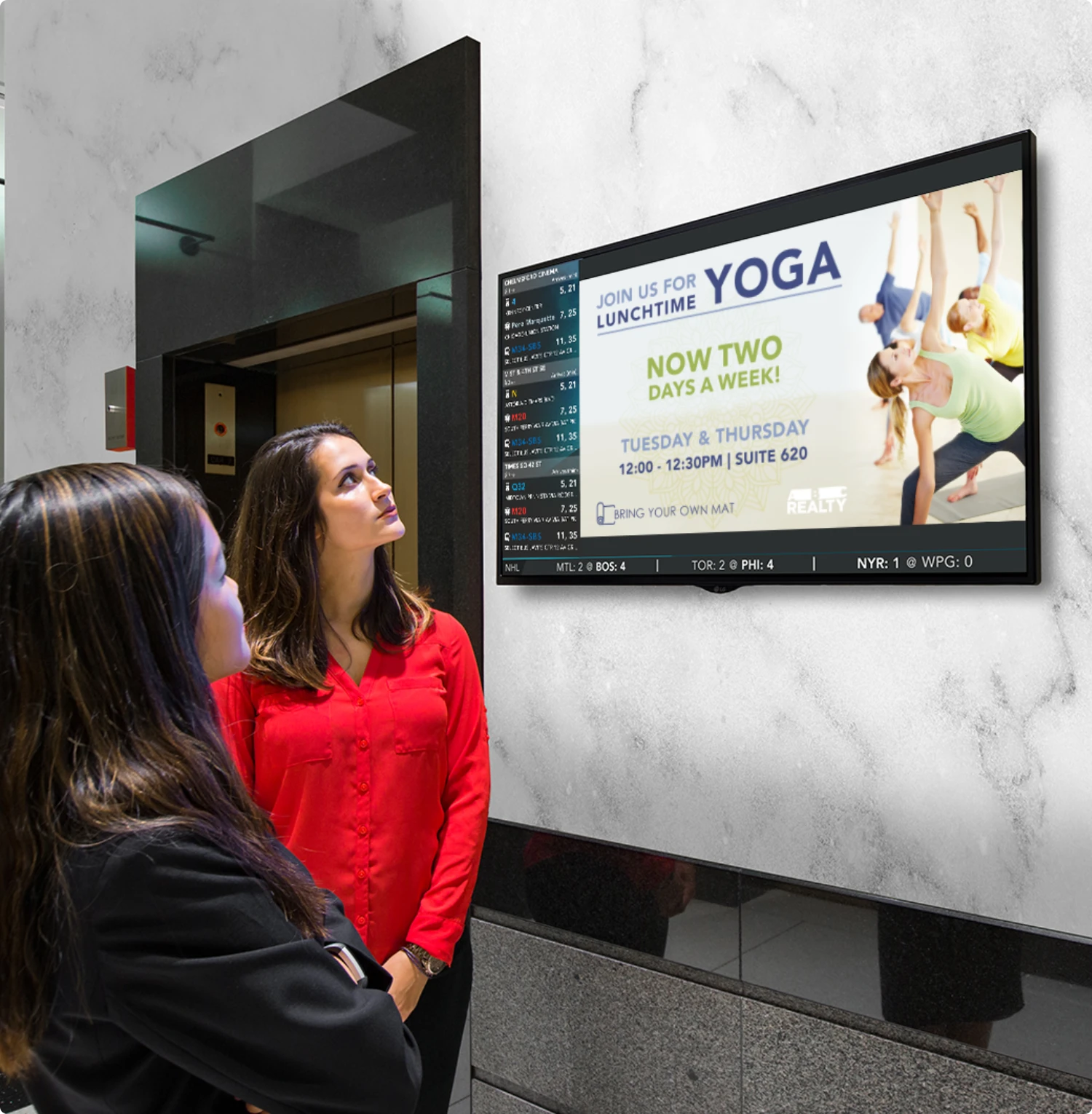 Landscape or portrait display (43" to 50") - Free Hardware
Captivate GO player - Free Hardware
Installation & set-up (optional) - Free
Media Service 36 months - Waived $50/mo
Deluxe Digital Branding - Waived $10/mo
ScreenCenter messages (720/day) - Waived $25/mo
ScreenCenter upgrades (video & override) - Waived $50/mo
Captivate MOVE add-on (real-time transit data) - Waived $75/mo
Effortless Property Messages
The Captivate ScreenCenter™ Content Management System enables you to create your own property messages in minutes and publish them to one or more screens and buildings, even from a mobile device.
Post messages to keep customers informed, whether it be to notify of scheduled maintenance, welcome new tenants, present lease referral programs or promote events.
Post urgent messages quickly to keep customers and visitors safe, informed and confident of what to do no matter the situation.
Highlight onsite amenities to inform customers and encourage participation in all that your property has to offer.
Captivate's professional editorial staff leverages 25 years of experience to curate news, sports and entertainment programming that is most likely to resonate with your customer base and add value to their day. Add Captivate | MOVE to post nearby transit information for even greater customer value.
We publish content from our network of trusted global and local content providers across multiple genres.
More than 150 content providers




Our bite-sized programming covers a range of genres designed to inform and entertain.
Real-Time Transit Solution
Reliable transit data is customized to feature local stops based on your property's location to inform commute decisions of busy tenants.  Optimize your screen content experience to boost tenant engagement.
of Tenants Enjoy Watching Captivate
%
Find Captivate Informative
%
Would Be Disappointed If Captivate Was Removed
%
Agree Captivate Is Trustworthy
Let's create an exceptional experience together